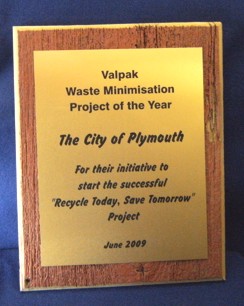 We have searched around the mid-west for old barns to re-cycle the wood for plaques. This gives a rustic look and rather than have the wood rot, we have turned it into an environmentally friendly plaque. Since the wood is not engravable, we use a gold finished aluminum that is also recyclable. This is a win win situation for a truly unique environmentally friendly award.
6 letters FREE, then 16 cents a letter. Logo $5.00
Barn Wood - Aproxly. 9" x 12" $39.00
Barn Wood - aproxly. 5" x 7" $25.00
Please note: This is old Barn Wood that is usually around 40 years old. We harvest the planks and make the largest award possible out of the plank. That is why the approximate award sizes.

Awards Going Green
Engraving Connection
1205 S. Main St.
Plymouth, MI 48170
877-8-AWARDS
877-829-2737
etched@engravecon.com