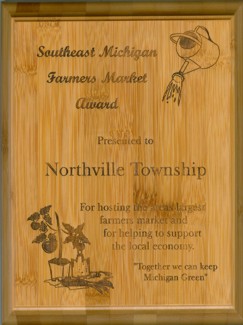 Bamboo is one of the fastest growing plants on the planet. When I was a child in Battle Creek Michigan, my dad owned the Old Post Mansion (Post Cereals). In the back, the Post family had planted some bamboo they had collected on one of their trips. My dad on occasion, ask if I wanted to earn any extra money. I would say yes. I learned first hand how fast bamboo grows. I called this a kid killer job. Little did I think this kid torcher plant could be turned into a beautiful environmentally friendly award. Today we need to think out side the box new materials to make awards. We need to look for products that are renewable and protect traditional award woods from extinction.
Bamboo is beautiful as an award wood. You can see the bamboo canes in the plaque. Every one is a unique piece. No one is the same - just beautiful. We laser engrave the bamboo plaques to keep all the beauty of the wood showing to the award receiptiant.
This makes the perfect award for your environmental event.
Order your "Green Alternative" Bamboo Plaque Today!
6 letters FREE engraving, then 16 cents a letter. Logos $5.00
BAMBOO 6x8 - $25.50
BAMBOO 7x9 - $28.50
BAMBOO 8x10 - $32.25
BAMBOO 9x12 - $39.00
BAMBOO 10.5x13 - $46.50
BAMBOO 12x15 - $52.50

Awards Going Green
Engraving Connection
1205 S. Main St.
Plymouth, MI 48170
877-8-AWARDS
877-829-2737
etched@engravecon.com